The TEKFAB rollformer rebuild process is way more than just a nice paint job…
Whether you need a full machine refurbished or one-station at a time, TEKFAB will take care of the process for you. Many of the roll formers in the industry today are not performing as they did when they were originally built – often 40+ years ago, and in most cases the cost to rebuild is justified compared to replacing the machine. Typically, the total cost to rebuild a roll forming mill is 25-75% less expensive than a new machine and can be a good alternative in most applications. 
Our rebuild process addresses all the critical areas of the mill that affects performance like; spindle concentricity, bearing preloads, gearing, drivetrain, machine and shoulder alignment. The following information shows you what steps are taken during a typical TEKFAB rebuild service that is GUARANTEED to perform as good or even better than new…and it also includes a nice paint job!

Standard roll former rebuild service includes:

Removing all stands, guards and drive components.
Complete disassembly of all driven and outboard stands.
Spindles diameters are measured, checked for runout, and a report is provided.

Parts are cleaned, degreased and inspected for wear, and a list of recommended replacement parts is provided.

All painted parts are sanded or sandblasted to prep for painting or black oxide finish.

All turned parts are polished to remove corrosion and improve surface blemishes.


All grease ports are cleaned prior to assembly to ensure that the new bearings will not be contaminated.
Driven and outboard stands are assembled with new bearings, seals, grease fittings and fasteners.
All bearings are properly preloaded to ensure that that there is no bearing endplay present.
Top spindles are set parallel to the bottom spindles to ensure accuracy when checking the shoulder alignment.
Spindle shoulders are aligned top / bottom within ±.001" of the target dimension with the driven stand fixed on a surface plate and using a precision square and feeler gages to determine shim placements or alignment spacer thicknesses (depending on the design).  We also incorporate a custom shoulder alignment gage and micrometer for this process.
If alignment spacers are utilized, a list of the alignment spacer location & thickness is provided.


All bearings are greased while being rotated to ensure there is proper lubrication. Gearboxes are filled with EP 460 gear oil and checked for leaks.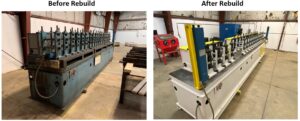 TEKFAB Inc, operates plants in Oregon & Ohio providing equipment ranging from punching and flying cutoff press systems, full turn-key roll forming lines, aluminum extrusion or structural iron processing systems, machine rebuilding, engineering and field services for the metal forming industry.
Contact TEKFAB to discuss your specific machine problems
and we will develop the appropriate solution
and options to improve your rollforming operation.