Flashing and Step Flashing Lines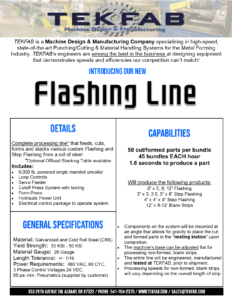 If you are looking to form Flashing or Step Flashing, or you are looking for a better, faster, more efficient way, you are in the right place!
Complete Processing Line that feeds, cuts, forms and stacks various custom Flashing and Step Flashing from a roll of steel made by TEKFAB!
You can trust the TEKFAB name to help you make Flashing, or help you with any of your other rollforming needs! With engineers, who combined, have more than 150 years experience and the added bonus of a company that takes pride in the care of our customers, you can rest-assured you are in good hands!
Feel free to give us a call or shoot us an email anytime if you have any questions, desires or enquiries, and while you are here, make sure to explore our website to see what all TEKFAB can do for you!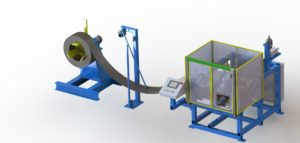 PHONE: 541-704-2370     EMAIL: [email protected]
Check out our other products and services here:  https://tekfab.com/products/ 
[contact-form-7 id="16″ title="Contact form 1″]